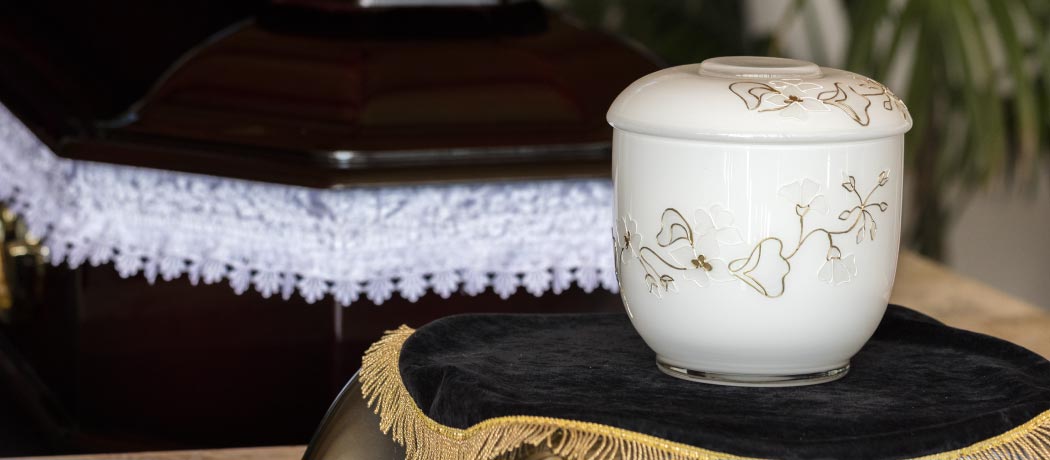 What does the cremation process involve?
The State of Virginia requires that a few items be completed prior to the cremation taking place. These items include:
Cremation Authorization Form: Virginia requires that the next-of-kin sign a cremation authorization form prior to cremation taking place. If there is more than one next-of-kin, we will need the signatures of each next-of-kin. Additionally, our cremation authorization form has a space for visual identification. At Affinity, this can be done by photo or in person. Unlike other funeral homes, we do not charge to view your loved one in person. Once the identity of your loved one has been confirmed, you will sign the form.
Signed Death Certificate: Virginia requires that a primary care physician or attending physician sign a death certificate noting the cause of death of the individual. Once we have this cause of death we notify the local Medical Examiner.
Medical Examiner/Coroner Authorization: For every cremation that occurs in the State of Virginia, a local Medical Examiner must certify and sign that your loved one is okay to cremate. The State of Virginia fee for the Medical Examiner Authorization is $50.
How long does the typical cremation take and how hot does the cremation chamber get?
The typical cremation can take anywhere from 2-3 hours. The crematory chamber temperatures can range from 1400-1800 degrees Fahrenheit. The National Funeral Directors Association (NFDA) states, "After approximately 2 to 2 ½ hours, all organic matter is consumed by heat or evaporation. The remaining bone fragments are known as cremated remains."
Does the body have to be prepared for cremation?
As funeral professionals we must remove pacemakers and any other battery operated medical device prior to the cremation process. The embalming process is not required for cremation (unless a public viewing is held with the body present). Our professionals take an inventory of all items that come into our care. If the family wishes to have any personal effects returned to them our funeral professionals will be glad to do so.
Prior to the cremation occurring, your loved one is held in refrigeration. Without the embalming process occurring, refrigeration is necessary as it is the only other option that inhibits the process of decomposition.
What do I receive back when the cremation is finalized?
Families will receive back cremated remains that is similar the texture of sand. This is created by running the ashes and bone fragments through a processor of the machine to create the powder-like texture.
Can I transfer my loved one's remains across state lines?
If you are traveling across state lines you will need a transit permit to your destination. Please inform your funeral director of your travel planes, and he/she will be glad to help you obtain a transit permit. There is no cost for receiving a transit permit across state line.
What are the cremated remains returned back in?
We return all of our cremated remains back in a black plastic box with the remains placed in a plastic bag safely secured by a zip tie. If you do purchase an urn, the remains will be returned in the urn or keepsake urns that were purchased.
You will also receive a copy of a certificate of cremation. This an important document to hold onto if you ever decide to inter the remains in a cemetery as most cemeteries require this document for burial.
When do I receive my certified copy of death certificates?
In most cases we return the death certificates when you or another family member picks up the cremated remains. If you need certified copies sooner, we would be happy to accommodate. The State of Virginia charges $12 per certified copy of a death certificate.
Can I pay for a cremation with a life insurance policy?
You certainly can fund a cremation with a life insurance policy. Our staff is trained to assist you with this and the entire claim process. We will need to know the name of the insurance company and the policy number. The primary beneficiary will have to assign over the funds to cover the funeral arrangements.
My husband is a veteran, but wants to be cremated and interred in a veteran's cemetery. Is this possible?
Yes, this is possible. In Richmond, Virginia we are located in close proximity to several national cemeteries. The national cemeteries include:
Alexandria National Cemetery
Arlington National Cemetery
Culpeper National Cemetery
Quantico National Cemetery
Danville National Cemetery
Additionally, we are located near several state veteran's cemeteries. The cemeteries include:
Virginia State Veterans Cemeteries
Albert G. Horton, Jr. Memorial Veterans Cemetery
Southwest Virginia Veterans Cemetery
Virginia Veterans Cemetery
To be interred in one of the cemeteries listed above an individual must have a copy of their loved one's discharge papers or DD214. Burial benefits include:
Opening and closing of grave space
Perpetual care
Government headstone or marker
Burial Flag
Presidential Memorial Certificate
Additionally, eligible children and spouses are also eligible to be interred in veteran cemeteries at no cost to the family.
At Affinity, even if we do not participate in the final interment of your loved one at a national or state cemetery we will still assist you in coordinating and reserving a time for the final burial time at no cost to you.
Different Options for Cremated Remains?
Many families are unaware that there are many ways in which the family can handle their loved one's remains. While the traditionally remains are placed within an urn, other options include:
1. Space Travel: Celestis Memorial Spaceflights actually allows for families to shoot their loved one's ashes into space. Depending upon the type of service selected, Celestis Memorial offers families the opportunity for the remains to orbit the earth, lunar orbit, or launch the remains into deep space.
2. Fireworks: Heavens Above Fireworks offers another unique option for cremated remains. Through firework displays, families have the option to incorporate cremation ashes within the fireworks. A unique tribute that makes for a memorable remembrance of a loved one's life.
3. Diamonds: Another option is to create a diamond with the cremated remains. In this option the cremated remains are manufactured into a gemstone. LifeGems is a company that offers a variety of colors of their diamonds ranging from: blue, yellow, red, green, and colorless. Prices start at $2,490.
4. Glass: Memory Glass provides families a unique alternative to memorializing their loved one. Memory Glass suspends cremated remains within a variety of choices including: ribbons, pendants, hearts, and galaxy orbs.
5. Painting: Art in Ashes is a company that mixes in the cremated remains of an individual with oil pants. The paintings offer families a fitting tribute to a life of their loved one and can be tailored to the hobbies and interest of the individual.
6. Teddy Bear: Many companies are now offering Teddy Bear Cremation urns which allow for an individuals cremated remains to be housed inside of a Teddy Bear.
7. Coral Reef: Eternal Reefs is a company that is providing families with the opportunity to memorialize their loved one through the creation of an artificial reef. The process involves mixing cremated remains with concrete and then crafting an artificial reef that is then placed onto the sea floor. Prices for this option begin around $2,995.
These select options highlight a few ways in which your loved one can be memorialized. It is important to remember that everyone has a story to tell. Life is a great gift and here at Affinity we will assist you in any way to ensure that your loved one's life is captured in a fitting and unique tribute.