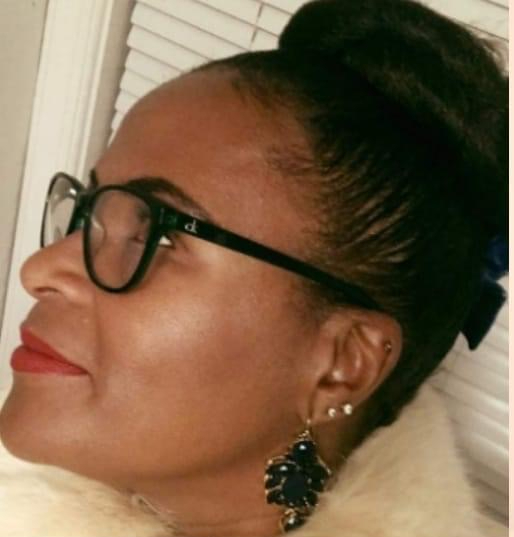 Carol Bonita Cook Wiggins
Nov. 16, 1958 – Feb. 15, 2021
Carol Bonita Cook Wiggins, was born on November 16, 1958 to John and Ella Mae Cook. She fell asleep suddenly and unexpectedly in death on Monday, February 15, 2021.
She is survived by her four children,  Brittani (Jameel) Staten, Bryson Botts, Bethani (Davon) Jones, and Benjamin Botts; mother, Ella Cook; sisters, Gwendolyne (James) Pace and Betty Cook; brother John Kenneth (Lauren) Cook; three grandsons, Boston Kilgore, Mason and Princeton Jones; nieces, Tarie Pace and Jasmine Cook; nephews, Tierre J. Pace, Tamond (Danielle) Pace,  Timothy (Corlette) Pace and John (Erin) Cook; great nephews, Tierre P. Pace, Tamond Pace Jr., Trevor Pace; great nieces, Kiersten Pace, NyEisha and TyEisha Moon, Summer Pace and Nia Rose Cook; one uncle, Charlie (Bari-Ellen) Ross; aunts, Shirley Chambliss, Odell Jones, Regenia (Jerone) Vessels, Geneva Powell, Ella Cook, Virginia Pair, Dorothy Pair and Mary Ruffin. Carol leaves behind many other relatives and close friends who loved her dearly and for whom she had a special fondness.   She was preceded in death by her father, John T. Cook, Sr. and her husband, Calvin Wiggins.
Carol had a deep interest in spiritual things growing up. On March 17, 1973, she symbolized her personal dedication to God and was baptized as one of Jehovah's Witnesses. She found great joy in her relationship with Jehovah God and took tremendous satisfaction in sharing the things she learned from the Bible with others. Her love for Jehovah and her desire to help others learn the marvelous truths from the Bible moved her to devote herself as a full-time Pioneer and volunteer Bible teacher in September 2010. She did this faithfully up until her death.  She was also a LDC volunteer at the Richmond Virginia Assembly Hall where she enjoyed working in the Cleaning Department and making many friends. Her greatest joy was in seeing her children serving Jehovah and trusting in his promises. She loved her family immensely and made sure to spend quality time with her children, her mother, siblings and her grandchildren. In addition she created a space to love and cherish friends, congregation members, co-workers and those who appeared to be in need of an embrace; so to know Carol was to love Carol. Carol will also be remembered for her love of music, her beautiful singing voice, her sewing skills, her love of nature and plants, and for being hospitable. Carol loved to travel with her family and friends especially on their annual trips to Myrtle Beach and Disney World.
Carol will be greatly missed by all who knew her! We look forward to embracing her very soon in the paradise on earth (Psalms 37:11) when Jesus fulfills his promise at John 5:28,29, "All those in the memorial tombs will hear his voice and come out … to a resurrection of life."
Our Mother, Grandmother, Daughter, Sister, and Friend
 You left us beautiful memories, your love will always be our guide,
We patiently await the day when you will be by our side.
Brittani, Bryson, Bethani, Benjamin
Boston, Princeton, Mason
Ella, Gwendolyne, John, and Betty
Acknowledgements
The family of Carol Cook Wiggins wish to thank all who provided prayers, cards, flowers, acts of kindness, comfort, phone calls, and assistance. We are grateful for your continued help as we navigate through the waves of emotions from the loss of our dear Carol.
We also offer a sincere thank you to
Affinity Funeral Service
2720 Enterprise Parkway
Richmond, VA  23294