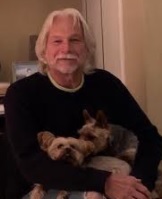 Charles C. Rutherford
January 19, 1954 – December 7, 2021
As I write this to the love of my life it is with a sad heart that I express the love we had together for 51 years.  With my four children Jeremy, (Amanda  and Amy), Lelah Purks (John), Phillip (Hannah) and Douglas (Adjani) Rutherford; and my wonderful sister-in-law, Linda (Reggie, Caralee  and Brittany) Sadler; and my brothers, Tim, David, Joseph; and most beloved brother, that was like a son of ours, Peter (DeeCee) Hustead;  we say goodbye to Charlie Rutherford.
My years of marriage were never smooth but always there.  After all you do not stay married to someone for 49 years without ups and downs. That is what makes a good marriage work.
Charlie, you have been and always will be the love of my life.  Thank you for the years and good memories and the material things you worked so hard to provide. If you weren't trying to make me happy you were working with one of the kids, neighbors or trying to figure out what was wrong with something and what you needed to do to fix it. But most of all thank you for playing babysitter to Audri. I know these qualities will carry forward in the children's lives.
To our grandchildren…. Caitlin, Haley, Amerah, Sophie, Chase, Jackson, Zach and most beloved Audri Dorathea your Pepa cherished the ground you walk on. Pepa said this is what makes us go on. The children that are left behind. May you always know he loved each of you in a special way and expects the best you can give this world and to your wonderful parents.
Charlie was an avid racer and any opportunity he got he was on the track hoping to get a good run in. Most of the time it was really spending time with his sons and the guys. That was life to him. I know you will race to the end of the track and be there waiting for me.
All my love,  Debbie.
We welcome family and friends at 6:30 p.m. on Monday, December 13 at Affinity Funeral Service, 2720 Enterprise Pkwy, Richmond, VA 23294.
A graveside service will be held at 2 p.m. on Tuesday, December 14 at Westhampton Memorial Park, 10000 Patterson Ave., Richmond, VA 23238
Friends and family are invited to the residence after the service.