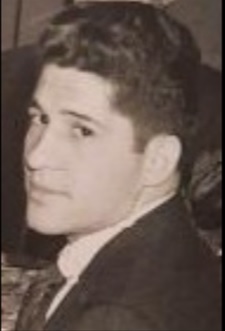 Don Manuel "T" Paz
Aug. 15, 1935 – Aug. 14, 2021
Don Manuel "T" Paz passed away on Saturday, August 14, 2021 with the completion of 85 years of life. He was preceded in death by his parents, Jacinto Patrick and Marie Paz and brother Robert "Bosco" Paz. Don Paz grew to be a man of many talents and interests. As a man of considerable intelligence, he was always an independent and enthusiastic problem solver for himself and others.
Don, a loving father, is survived by his daughters, Sharon Rambaldo, Linda Paz Beggs, Laura Paz; sons Mark Paz and Don Paz; as well his sister Marie Pericco. Don leaves behind many grandchildren and great-grandchildren; countless friends; and his very close companion "Vinson" mastiff.
Don was born in Cleveland, Ohio and was raised in Euclid.  He left behind memories of numerous awards, trophies, and accomplishments making history.  Don attended Euclid High School in Euclid, Ohio, where he played three seasons of football and was a wrestler that won 30 consecutive matches. He was the district champ for two years, runner up for one year, and in 1952 he was the Ohio State Champion wrestler. Don is also in the Euclid Hall of Fame. Don joined the U. S. Marine Corp. where he continued his passion for sports and played quarterback and linebacker for the Marines All-Star Football team in Japan.
When he returned back to Euclid he organized and became President of the NEO Association and coached the Euclid High School wrestling teams. Don's name and accomplishments will be remembered forever. He was, finally and above all else, a man who loved us all. We will love him forever and a day and will miss him profoundly.
Funeral service will be at Fort Rosecrans National Cemetery San Diego CA.  Services will be held at a later date
A good name is better than fine perfume, and the day of death better than day of birth Ecclesiastes 7:1    The memory of a good person is a blessing.    Proverbs 10:7     Well done, good and faithful servant.   Matthew 25:23