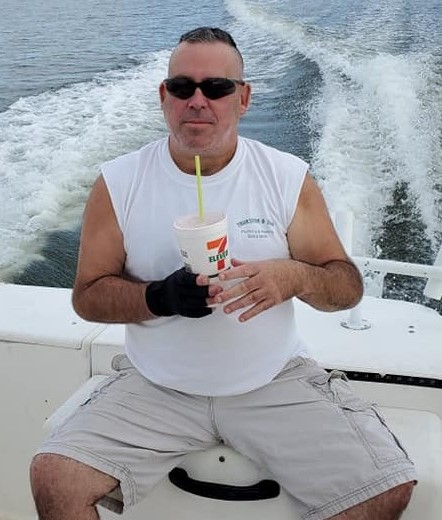 Howard Scott Thurston
July 6, 1971 – June 14, 2022
Howard Scott Thurston, 50, passed away peacefully in his sleep on June 14, 2022 at his Happy Place on the Rappahannock River.
Anyone who knows Scott, knows that he and Cynthia spent most of their time at Greys Point Campground which he referred to as home. Scott, aka Crabcake, loved to be on the water fishing or riding around, watching the sunset, riding the golf cart, and cooking out on the grill.
He is survived by his parents, Howard and Thelma Thurston; wife Cynthia Peepas Thurston; daughters Lauren Elizabeth and Olivia Matney; and his sister, Laura Matheny.
Scott has always been larger than life and the outpouring of love and stories is getting us through his sudden passing.  He is at a better place and no longer in pain.
Scott's final wishes are being honored so he is being cremated with no celebration of life planned.  He told Cynthia he will come back to haunt her if she didn't follow them.  Anyone that knows Scott, knows that he will stay true to his word.
According to several friends "Every day with Scott was a celebration" and "If you didn't have a fun with Scott, you shouldn't be around him."  His infectious laugh will carry on forever.
Scott, you have touched so many lives and will be loved and missed forever!