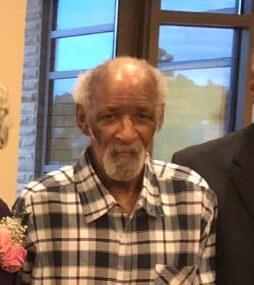 James H. "Buck" Lewis Jr.
Obituary message
James Howard (Buck) Lewis, Jr., 83 of Henrico, VA departed this life on Sunday, November 11, 2018 after a brief illness. He was born on April 12, 1935. He was predeceased by his parents James H. Lewis, Sr and Mary Anderson Lewis; brother Thurman Lewis and sisters, Leona King and Mary Frances Washington.
He is survived by four brothers, Alfred, William, Joseph and Matthew Lewis; four sisters, Ida Mae Jackson, Mattie Eberhardt, Barbara Lewis and Helen Harris; two sisters-in-law, Ella Mae Lewis and Theresita Pleasants-Lewis; a host of nieces, nephews, cousins, relatives and friends.
Remains rest at Affinity Funeral Service, 2720 Enterprise Parkway, Richmond, VA 23294. A funeral service will be held at Noon Friday, November 16 at the funeral home chapel. The family will receive friends one hour prior to the service. The Rev. Philip D. Atkins will officiate the ceremony.
In lieu of flowers, you may send donations in memory of James H. Lewis, Jr. to First Baptist Church Elmont 11624 Cedar Lane, Ashland, VA 23005 The family would like to thank the staff at Manor Care for the care and support they provided throughout this journey and the Bon Secour Hospice staff.