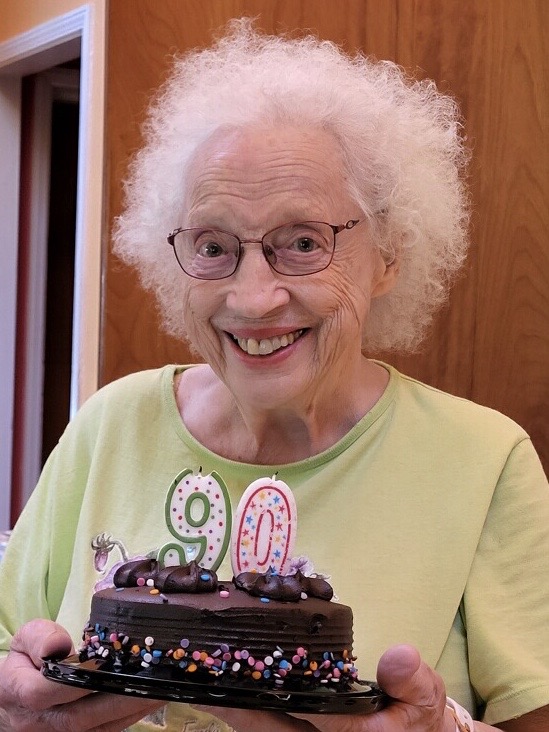 Jeri E. Madsen
May 9, 1932 – February 5, 2023
Jeri E. Madsen, 90, of Richmond, widow of Ronald F. Madsen passed away peacefully on Sunday, February 5, 2023.
Jeri was born in Buffalo, NY on May 9, 1932. She was preceded in death by her parents, Elizabeth Peltier and Harold Ward Keating; her father, John D. Eddy; and her infant son, Peter Scott Madsen.
She is survived by her sisters, Linda Rings (Robert), Barbara Eddy, Carol Eddy, Rosemary Duval-Arnould (Bertrand); her children, Kristie, Ward, and Allen E; her grandchildren, Alex Knight (Anissa), Allen C. Madsen, April Vazquez (Luis); three great-grandchildren, Taylor and Morgan Knight, and Mateo Vazquez. Jeri will be greatly missed by her large extended family and numerous lifelong friends.
Jeri was a U.S. Air Force wife from 1952-1974. She was always active in community service.  She was a Brownie and Girl Scout leader, a Cub Scout and Webelos leader, drove the ambulance for the Gloucester County Volunteer Rescue Squad, volunteered at the Laurel Shelter for Battered Women, worked three Federal Census, taught knitting to children at Abingdon Elementary and Peasley Middle School, Gloucester, Va. and lastly, worked Virginia state polls.
Jeri retired from Perry Electric and worked as a bookkeeper for several local businesses around Gloucester. She also served as the treasurer of the Southeastern Ultralight Flying Association.
Jeri's passion was crafting: knitting and crocheting, quilting, dolls, and puppets. She won numerous blue ribbons for her crafts in state and county fairs. Jeri loved to bake, travel and fly with dad. She loved their many adventures. Her zest for life and her beautiful smile will be remembered by all who loved her.
A celebration of life will be held at the Lewis Ginter Garden, Robins Room from 2 to 5 p.m. on Sunday, February 26, 2023. A graveside service to lay her to rest with dad will be held at Woodlawn National Cemetery, Elmira, NY. at a later date.
In lieu of flowers, the family requests donations to "DogsForBetterLives.org".