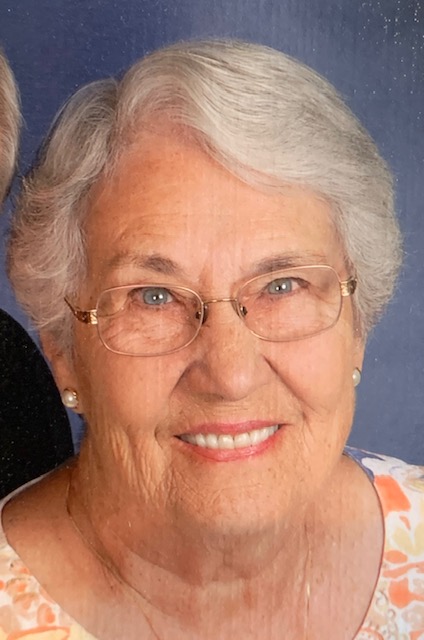 Nancy Marie Carneal Dickinson
Nov. 18, 1936 – May 13, 2022
Nancy Marie Carneal Dickinson passed on May 13, 2022 in Mechanicsville, VA, where she had made her home the past six years. She was born in Fredericksburg on November 18, 1936, to John F. Carneal, Sr. and Gladys Virginia Alsop Carneal. One of the most significant moments of Nancy's life was her marriage to Curtis Dickinson on July 11, 1959.
Nancy graduated from James Monroe High School in 1955 where she lettered in basketball and softball. She was a cheerleader, a member of the SCA and Beta clubs, attended Girls State, and was a three-time Homecoming Queen. Nancy graduated from Mary Washington College in 1959, where she majored in Health and P.E. She worked at the former Wallace Library on the corner of Princess Anne and George Streets, and officiated basketball games to help pay her way through college. She taught the 1959-60 school year at James Monroe and later at Gayle Middle School she taught Health & P.E. She attended the University of Virginia where she earned her Masters Degree in Education in 1973. It was at that time that she became a Guidance Counselor at Gayle until her retirement in 1991.
Nancy represented Stafford County on the Frank C. Pratt Mental Health Chapter for a number of years. One of Nancy's favorite girlhood memories was being one of the very first to be served at Carl's Frozen Custard in 1947.
Nancy was preceded in death by her parents and an infant son, Mark Steven Dickinson. She is survived by her husband of 62 years, Curtis M. Dickinson of Mechanicsville; her daughter, Kelly Vincent (Marty) of Evansville, Indiana and sons, John Dickinson (Wendy) of Powhatan, VA, and Larry Dickinson (Helen) of Henrico; and her brother, John F. Carneal Jr. (Barbara) of Hartwood, VA. Nancy and Curtis have seven grandchildren, Hillary Dickinson Hellman (Joel) of Norfolk, Anne Marie Dickinson of Powhatan, Clair Dickinson of Henrico, Cullen Vincent, Tanner Vincent, Keller Vincent of Evansville, IN, and Maggie Vincent of Baton Rouge , LA.
The family will receive friends from 6 to 8 pm Thursday, May 19 at Covenant Funeral Service – Fredericksburg Chapel. A funeral service will be held at 10:30am Friday, May 20 at St. Mary of the Immaculate Conception Catholic Church in Fredericksburg. Interment will follow in Oak Hill Cemetery. In lieu of flowers, donations can be made to The Friends of the Central Rappahannock Regional Library, 125 Olde Greenwich Drive, Suite 150, Fredericksburg, VA 22408; or MICAH Ecumenical Ministries, 1013 Princess Anne Street, Fredericksburg, VA 22401.
Arrangements by Affinity Funeral Service – Mechanicsville Chapel.