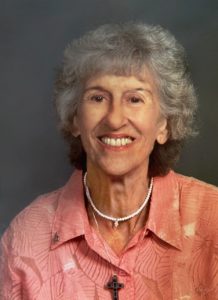 Olive Mae Johnson
Sept. 27, 1920 – Nov. 20, 2019
Mrs. Olive Mae Johnson (Dobson), age 99, of Lovettsville, Virginia has passed away in Midlothian, Virginia on Wednesday, November 20, 2019.
She was born on September 27, 1920 in Philadelphia, Pennsylvania, the oldest daughter of the late Dr. William Marshall and Edna Brett Dobson.
Olive was preceded in death by her husband, Merlin E. Johnson; her sister, Jessie Dobson Salmon, and her daughter-in-law, Lee Barker Johnson.  She is survived by her two sons, Eric William Johnson and Carsten Carl Johnson (Karen Johnson); two grandchildren, Katherine "Katie" Johnson Rusch (Eric Rusch) and Rebecca Johnson Peters (Jim Peters); and one great-granddaughter, Ellis "Ellie" Everly Rusch.  She is also survived by numerous other members of her extensive family who love her dearly.
Olive lived a remarkable, fulfilling life.  An accomplished musician and graduate of Randolph-Macon Woman's College (class of 1942) and attended the Julliard School of Music, Olive played and taught piano until well into her 90's.  She was a beloved music teacher for the Loudoun County school district for over 40 years, and a violinist for the Loudoun County Orchestra.  She played organ for Grace Episcopal Church in Brunswick, Maryland, and also for St. Peters Episcopal Church in Purcellville, Virginia, and was an active member of the church choir well into her 90s.  Recently, she was a regular attendee of the Brandermill Church in Midlothian, Virginia.  Active until the very end, she voted in the most recent November elections and regularly went out on boats on the Brandermill Lake.
Olive spent summers at her beloved family beach cottage in Groton Long Point, Connecticut.  The cottage was built by her parents in 1928, and her family continues to gather there yearly every July/August.  She enjoyed her last summer at the beach just this past August 2019.  There, she was also a seasonal member of St. Mark's Episcopal Church in Mystic, Connecticut.
An avid swimmer and diver, she was a member of her collegiate dive team and continued to swim and dive until well into her 90s.  Up until recently, she could often be seen on her daily swim and diving off the dock on South Beach in Groton Long Point.
She was fluent in German, and traveled extensively through Europe and Germany well into her 80s.  She will be missed by her many family members, friends and acquaintances throughout Europe.
Olive was a kind and doting mother, grandmother, great-grandmother, teacher, musician, and friend.  She touched the lives of many throughout her community, and her presence will be missed by all who knew her.
Memorial service will be held at St. Peters Episcopal Church in Purcellville, Virginia on December 7th at 11 A.M.
Memorial Service
Location
St. Peter's Episcopal Church
Date
Sat., December 7, 2019
Time
11:00 A.M.