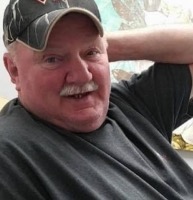 Robert Elmo Mahanes
Jan. 7, 1957 – Feb. 4, 2021
Robert Elmo Mahanes 64, peacefully passed away on February 4, 2021.  Many friends called him "Tuna Fish" and his whole family called him "Pop."  He was born on January 7, 1957 in Richmond, Virginia and was the son of the late, Elmo and Alma Mahanes of Montpelier, VA.
Robert found his soulmate Cheryl in 2005 and built a great life together!  Comet (his pup that goes everywhere and does everything with him) was his best friend! He was an avid truck driver and has carried his CDL license since 1978.  Robert enjoyed working, cutting down trees, go kart racing, watching football, playing with all the kids and making people laugh.
Survivors include his two sisters, Lucille (the late Eugene) Martin and Lois (Jerry) Conwell; three sons, Chris (Kelly) Mahanes, Michael Mahanes (Kendall), and Timmy Mahanes (Allison).  Robert also leaves his only daughter and his wonderful caretaker, Frances Minnis; his beloved grandchildren, Nathan, Ryleigh, Ashlie, Emma, Kaiden, Griffin, Kenzleigh and Gracyn.  He is also survived by his long time racing/softball and best friend, Danny Martin who is the keeper of all of Robert's secrets; his many cousins; tons of friends and co- workers over the years.
There will be a celebration of life at a later date.
In lieu of flowers please send checks or money orders to Comet. (Made out to: Frances Minnis, 6138 Stronghold Drive, Mechanicsville VA 23111.)